Leaving a Green Legacy
As part of our commitment to help you create a green legacy and to preserve the planet for future generations, Cremstar selects the most ecologically responsible end-of-life options available wherever we operate.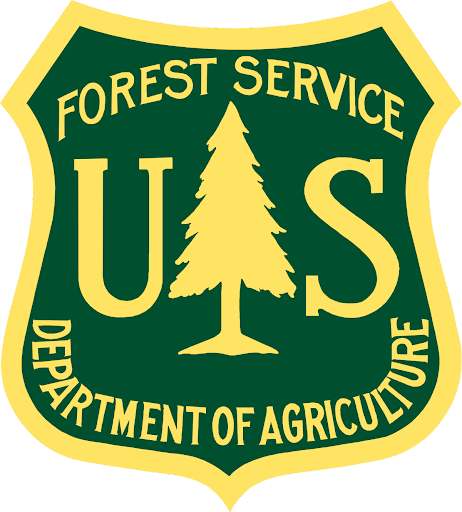 To offset the carbon footprint of each cremation, Cremstar makes a donation to the National Forest Service in the name of the deceased, underwriting the planting of a seedling in their honor. >> MORE
Burial versus Cremation
Forty years ago, only 5% of Americans were cremated. By 2000, that number had climbed to 25%. Today, more than 56% of Americans are cremated and, in some states, the cremation rate is greater than 80%.
While the transition from traditional burial to cremation is largely due to the high cost of burial, cultural secularization, and the increased mobility of the American public, it's also driven in part by ecological considerations. Studies have shown that traditional burial has a significantly higher ecological cost than cremation (Berkeley Planning Journal).
More than 800,000 gallons of formaldehyde are dumped into the earth as a result of burials every year in the US. That's enough to fill one and a quarter Olympic-sized swimming pools.




Conventional burials use 30 million board feet of hardwoods, 2,700 tons of copper and bronze, 104,272 tons of steel, and 1,636,000 tons of reinforced concrete every year in the US.




The amount of casket wood alone is equivalent to about 4 million acres of forest and could build around 4.5 million homes.



The following chart details the environmental impact of cremation versus traditional burial as measured by a composite measure called the 'shadow price'; the higher the shadow price, the higher the cost to the environment and the less eco-friendly it is. Using these ecological metrics, burial has a 23% higher environmental cost than cremation.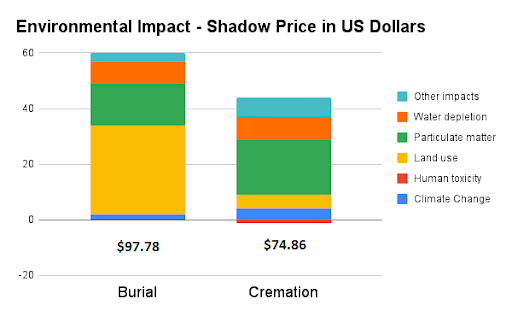 TNO Report 2014 R11303, Utrecht, Netherlands. (Prices in 09/2021 U.S. dollars.)
Each of us can make an environmental difference … not only in how we live our lives, but how we leave our lives. Don't let your final act be an assault on the environment. Leave a green legacy, and be remembered as a protector of the earth.
Here are some additional Eco Tips to consider:
If you're hosting a ceremony, repast, or life celebration event, try and select a venue that's nearest to the greatest number of guests. Carbon from travelling, depending on the number of guests, dwarfs most other impacts. And make sure to create a Memory of the event at MemoryBox, so others can view and comment upon the photos captured during the ceremony, no matter where they live in the world.




Always look for crematories with superior records on emissions. We at Cremstar only work with fully licensed crematories that are regularly inspected by the state under strict EPA guidelines, and we favor those with efficient energy systems.




Choose a coffin that is environmentally friendly such as cardboard coffins, wicker coffins, coffins made from FSC certified wood, or even simple shrouds. As much as possible, try to buy one that is manufactured locally. At Cremstar, we use bio-board containers, which have a smaller carbon footprint both to make and to cremate. And, if you're looking to bury the ashes (cremains) of your lost loved one on private property or at sea, we strongly recommend placing them within a biodegradable urn made from materials that break down naturally in the earth or water, such as sustainably-produced paper or rock salt.




Think of alternatives to floral tributes; most flowers are flown in, adding to the carbon footprint. Also, ask the florist to avoid the use of non-compostable products like florist foam, plastic trays, and cellophane wrapping. Using seasonal, locally sourced flowers is recommended. If at all possible, make your own tributes from your garden.
If you have any questions, please contact us:
By phone: (888) 802-0999, available 24/7. (Se Habla Español.)
By email:

[email protected]

By chat: 7AM - 10PM Eastern Time, seven days a week; click on the round red chat button on the bottom right of the screen.
If you are in immediate need

because a death has already occurred, order a direct cremation now.

If a death is imminent

(i.e. in a matter of days or weeks), visit the Cremstar Cremation Cost Calculator for a price quote and to email yourself a customized "Order Now" link so that you're ready when the death occurs.

If you are preparing for the future,

visit our Planning Ahead section.
Order Cremation